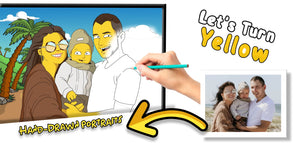 Choose the number of people
Turn yellow with your friends, family, pets or favorite celebrity! We turn real-life photos to animated illustrations, exactly how you like it! Lets Turn Yellow allows customers to have custom portraits with as many people as you would like!
Let's Turn Yellow
Choose your picture style
Our aim is to provide individualized yellow portraits with the highest quality possible! That's why our customers can choose to be drawn in full body or only half body.
Let's Turn Yellow
Add a background
We are able to create custom backgrounds. We draw your picture with a standard yellow people background or custom backgrounds as well. Just tell us what you wish and our qualified team of artists will get it done for you!
Let's Turn Yellow - Start Now!
Let's Turn Yellow
We are in no way associated with or authorized by the The Simpsons and neither that entity nor any of its affiliates have licensed or endorsed us.